Welcome to The Chatham Cheese Company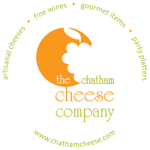 The Chatham Cheese Company is a gourmet food shop featuring artisanal cheeses from around the world. In addition to cheese, we also carry a great selection of wines that pair beautifully with them. We also carry an array of cured meats and pates. Look around and find all of our gourmet specialty items…..crackers, pasta, sauces, oils, vinegars, jams, honeycomb and chocolate! Bread from Pain D'Avignon and we are located on Route 28 across from the Del Mar Restaurant. Parking in rear.
Open from April to New Year's Eve: Spring 2015 – NOW OPEN from 10:00 am to 5:00 pm Wed-Sat and 10:00 am to 3:00 pm on Sundays.
 "Long live the cheese!"